SMOKIN' UGLY® Lineup Spotlight:
Outdoor Cookin' Chiminea
An homage to one of the earliest cooking and heating implements, the Outdoor Cookin' Chiminea is a modern take on the clay fireplaces and stoves a centuries ago.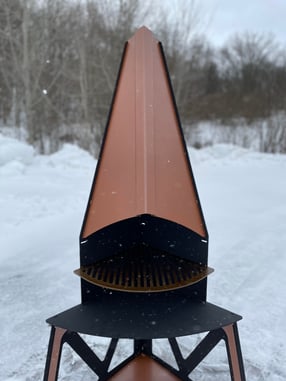 Part of our Smokin' Ugly line of products and accessories, the Chiminea lets you take cooking over an open flame or simply enjoying a fire to a new level.
A versatile piece of cooking equipment that travels well and assembles quickly (no tools required!), this woodburning chiminea is perfect for:
Patios
Backyards
Outdoor kitchens
Campsites
Tailgate parties
Proudly produced in the United States, the Chiminea is made with a heavy-gauge steel constructed body designed to last for decades.
Whether you're using it to prepare a meal or as an outdoor fireplace, this modern steel chiminea is a must for any outdoor oasis.
What is a Chiminea?
A freestanding fireplace, chimineas date back to 16th century Mexico. Made from clay, the earliest iterations of the chiminea were used indoors by the Mayan to cook on and heat their homes.
Modern chimineas – now constructed from iron or steel – draw from the original design, featuring a potbelly stove and chimney. With a one-of-a-kind aesthetic, the chimineas of today do not sacrifice their original functionality as a mechanism to warm an area or to cook on.
Outdoor Cookin' Chiminea Features
Boasting an innovative design, the Chiminea is designed for an optimal user experience.
Easy tab assembly
No tools required
Two grill heights to choose from
Easy-to-remove grill grate
Large bottom shelf for fire log storage
Easy access to ashes for removal

The Chiminea ships in plain steel to allow the user to customize their own finish, however natural patina, high-temperature paint (as pictured), or oil seasoning is recommended.


Become a Chiminea Distributor
Fill out the form below to get in touch with our team!