SMOKIN' UGLY® Lineup Spotlight:
TG Series Portable Grill
Meet the TG Series Portable Grill – the latest addition to our Smokin' Ugly product line.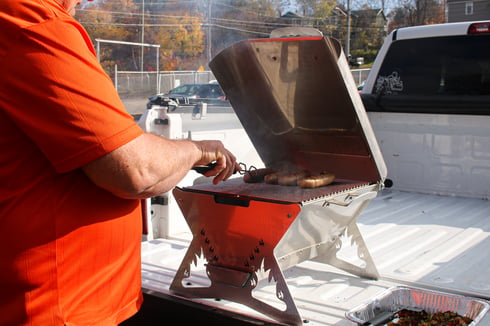 Made to travel easily, the TG lets barbecue happen almost anywhere. Though boasting a compact design, the TG does not compromise on cooking space or functionality, making it the hero for preparing food at a wide variety of excursions:
Tailgates
Hiking
Camping
Picnics
Fairs & competitions
Boating

Manufactured in the United States, the TG is made of robust stainless steel that withstands the test of time.

Motion Control Technology That Sizzles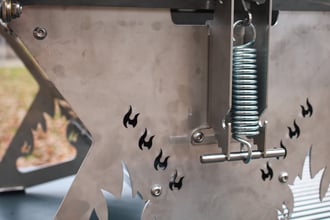 Like the Smokin' Ugly drum smoker, the TG boasts a spring-assist hinge for enhanced control over the grill.
With this motion control technology, the TG's lid stays in whatever position it's set. That means TG cooks won't need to hold the lid up when tending to a meal or worry about it inadvertently slamming down. What's more, this additional control allows the top to act as a vent of sorts to trap or release heat while cooking.


Portable Grill for Versatility
A triple threat in the world of outdoor cooking, the TG portable charcoal grill lets BBQ masters of all levels to up their culinary game no matter where they are.
Grill
First and foremost a grill, the TG is perfect for searing meat and vegetables over a bed of hot coals from the tailgate to the trailhead.

Griddle
Swapping out the grate for a low-carbon steel plate, the TG's griddle opens the doors to frying and sauteing from breakfast to dinner.

Pizza Oven
With the griddle and an adjustment to heat source placement, the TG becomes a de-facto wood-fired pizza oven.
Become a TG Series Portable Grill Distributor
Fill out the form below to get in touch with our team!